Bakery Pastries
While you're here, why not pick up one of our delicious pastries or mouth-watering desserts? They're the perfect accompaniment to our great lunches. We guarantee you won't be disappointed!
Cake Slice
$4.30
Carrot, Chocolate Whipped Cream, Strawberry
Pie Slice
$4.80
Apple, Cherry
Cheesecake
$5.20
Cheesecake Slice, Strawberry, Traditional
Cupcake
$2.50
Chocolate, Yellow
Gourmet Cupcake
$3.65
Banana, Boston Creme, Chocolate Blossom, German Chocolate, Key Lime, Lemon, Maple Bacon, Mostess, Oreo
Petit Four*
$2.00
White, Chocolate
Brownie
$1.65
Cookie
$.90 each
Chocolate Chip, Oatmeal Raisin, Peanut Butter, Snickerdoodle, *Chocolate Chews, Maple Pecan Chews
Muffin - Large
$2.80
Banana, Blueberry, Bran, Chocolate Chip, Cinnamon Sour Cream
Donut
$1.55
Maple Bar, Cinnamon Swirl, Cinnamon Twist, Chocolate Bar
Glazed Donut - $1.50
Plain, Glazed Buttermilk - $1.70
Donut (Filled)
$2.60
Rasberry, Custard
Danish
$2.85
Fruit - assorted flavors
Bear Claw, Pecan Bar - $3.25
Cherry - $3.20
Scone
$1.85
Almond, Blueberry, Cranberry
Items are subject to availability.
In-Store Cakes
Need a cake for a spur-of-the-moment party or a last-minute guest? We've got you covered! We have a variety of specialty tortes available in the store every day. We can even write a message on it for you!
7" Chocolate or Yellow Layer Cake
$27.85
7" Strawberry Torte
$37.25
7" Lemon Mousse Torte
$29.50
7" German Chocolate
$41.75
7" Red Velvet
$35.00
7" Buttercream
$32.50
8" Chocolate Whip Cream Torte
$30.65
8" Boston Cream Pie
$25.00
8" Carrot With Cream Cheese
$41.75
8" Fudge Torte
$32.50
Add $1.00 for writing.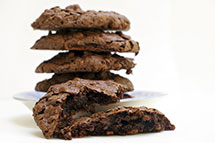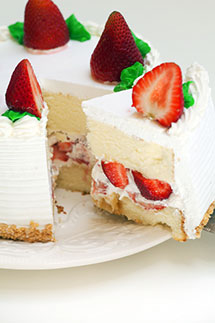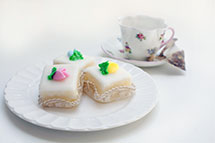 Click the following link for a printable version of our pastries page